Skip to Content

Baruffi Brothers Constructs Durable Wall Systems
Protect Your Home or Office With Baruffi Brothers
When you need high-quality wall systems for your home or office in the Southern New Jersey, Delaware, and Southeastern Pennsylvania areas, reach out to the Baruffi Brothers. Our team of experts works with only the best materials to ensure your structure protects everyone under your roof. We have continuously improved our practices and evolved with the industry to provide our customers with the most innovative options. Baruffi Brothers provide it all from traditional stone and stucco to modern continuous insulation (ci) exterior insulated finish systems (EIFS)! Give us a call today when you look to build or replace the wall systems within your home or office.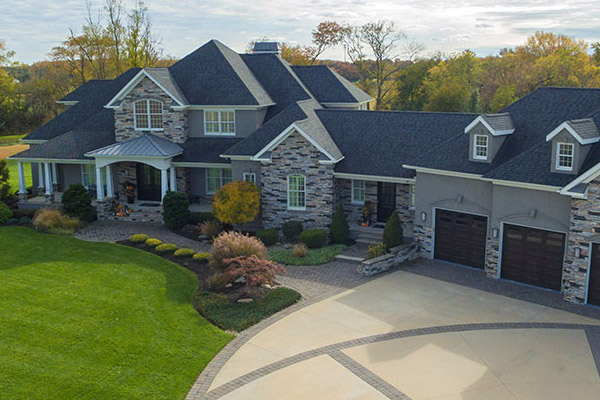 Residential and Commercial Wall Systems
No matter the aesthetic you have chosen for your home or office, Baruffi Brothers can help construct your wall systems with ease. In our seven decades of service, we have come across many different styles and requests from our customers. Using all of that knowledge and experience, we have developed the perfect solution to keep and protect those inside of them.
Check Our Wall System Options Below to See Which One Would Work Best for Your Building:
EIFS ci Wall Systems
Exterior insulation and finishing systems (EIFS) are a building cladding system we use to provide residential and commercial exterior walls with a continuously insulated (ci), water-resistant, and finished surface in an integrated composite material system. While the texture resembles stucco, we can provide you with a multitude of textures and colors to match your aesthetic needs and wants.
Stucco
Consisting of three coats, this wall system provides resistance to naturally occurring weather wear and tear. After installation, count on Baruffi Brothers to provide your home or office with repairs and maintenance as well. You can choose from natural or synthetic stucco, and we can paint it any color you desire. We can also help you choose the right texture for the finish to give your home the most curb appeal.
Stone
If you want to add a more natural look to your home with curb appeal, consider a stone veneer. Baruffi Brothers, we can give your home and office a look of elegance that will never go out of style. We can either go all the way around the house or mix and match with siding and other exterior options. Whether you are looking to remodel or building brand new, we are the team for you.
Thin Brick
When you need a more modern wall system, consider using thin brick. Thin brick is less than an inch in thickness, you will not need as many, and additional footers are not required when building out for your remodel or initial build.
Over 70 Years Worth of Knowledge and Experience
For the past 70 years, Baruffi Brothers have been the team to call when you want wall systems built in your home or office. We work with natural stone and drywall options and can provide the best finishing solutions to ensure you get the wall system of your dream. Each technician also comes equipped with all the right tools and equipment to complete the project swiftly. We will get you the answers necessary to maintain confidence in hiring our professionals if you have questions. With our wide variety of wall systems, you can count on us for the right look every time.