Skip to Content
EIFS CI Systems
Exterior insulation and finishing system (EIFS) is a building cladding systems that provides exterior walls with a continuously insulated (ci), water-resistant, finished surface in an integrated composite material system. The exterior surface of an EIFS installation resembles stucco and is often confused with stucco however, an EIFS exterior can be finished with a variety of textures and colors.
Waterproof Air Barrier
This protects the wall from moisture intrusion minimizing risk of water damage and associated repair costs.
High R-Value
Continuous insulation (ci) with high R-values provides significant energy cost savings by eliminating thermal bridging.
Code Approved
Complies with both ICC and IECC code requirements for continuous insulation.
Outbound Dew Point
Prevents condensation and freeze damage by placing the dew point outside the stud wall cavity.
No Mechanical Fasteners
No penetrating nails or screws to attach the insulation means no thermal bridging.
Low Maintenance Cost
Coatings and finishes with advanced acrylic and Lotus-Effect technologies resist dirt pickup, peeling and cracking.
Variety of Finishes
EIFS come in a variety of finishes including the look of brick, stone, slate, quarts, granite, sandstone, limestone and plaster.
Layers of Protection
EIFS are continuously insulated (ci) and provide many layers of protection from water, moisture and thermal extremes.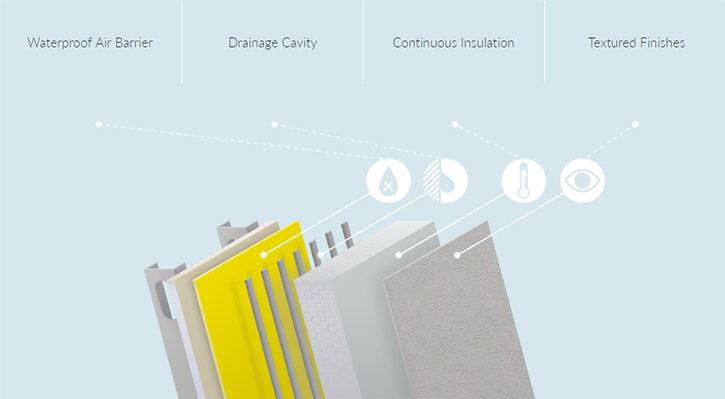 Schedule Your Initial Consultation About Wall Systems!